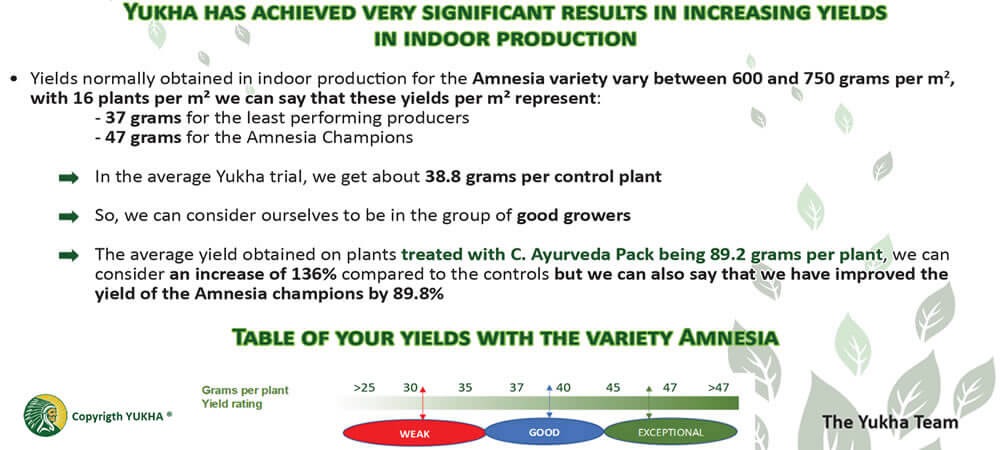 SUMMARY OF AGRONOMIC TESTS ENHANCED WITH EACH OF THE PRODUCTS SEPARATELY AGAINST THE TEST WITH THE C. AYURVEDA COMPLETE PACK
.
SUMMARY OF TESTS CARRIED OUT BETWEEN 2015 AND 2019
DEBASE MINERAL PROGRAM: RANGE OF CANNA PRODUCTS
.
Variety used in all tests: amnesia
Yukha has obtained very significant results in increasing the yields of indoor production
The yields that are normally obtained in the indoor production for the Amnesia variety vary between 600 and 700 grams per m2, with 16 plants per m² we can say that these yields per m² represent :
- 37 grams for producers with lower yield
- 47 grams for Amnesia champions
In the average Yukha trial, we get about 38.8 grams in control plants
So we can consider ourselves in the group of good producers
The average yield obtained in plants treated with C. Ayurveda Pack being 89.2 grams per plant , we can consider

an increase of 136%

compared to controls, but we can also say that we have improved the performance of Amnesia champions in a 89.8%
.
You can download the complete result in PDF format by clicking on the following image

Translated from the original text in Spanish by Yukha
(The results of tests on all the other varieties studied will be presented periodically)
Comments (0)
No comments at this moment